Bought these boots yesterday at that shoe store on NW 23rd Ave. Cannot
think of for the life of me the name of the store but i will edit my post when
my forgetfulness subsides. Went in looking for my much lusted after 4 inch
high ankle boots and when they were sold out of my size i FELL IN LOVE
with these...and they hadn't sold outta my size.. uh oh rewind...actually the
sales girl came back out with the news: "all we have left is an 8 or a 10"
Sadness the eight is about a half size too small for me. But they fit and i can
walk and
don't boots
always stretch out anyway?
After all these are shoes
i have spotted on manyof my favorite blogs yet never thought i'd actually
find. Besides living in the cold rainy city i am way in need of plenty more
boots for my wardrobe. Warm clothes...i never seem to have enough. Check
please hunny...these shoes are mine.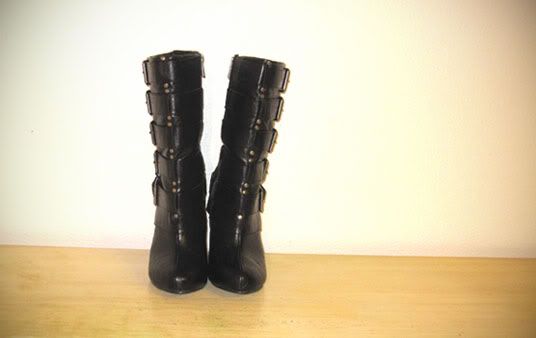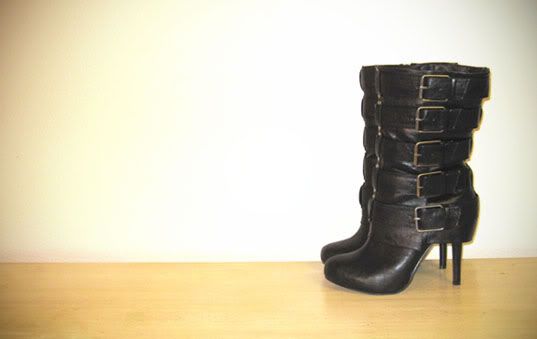 Anne Michelle, $60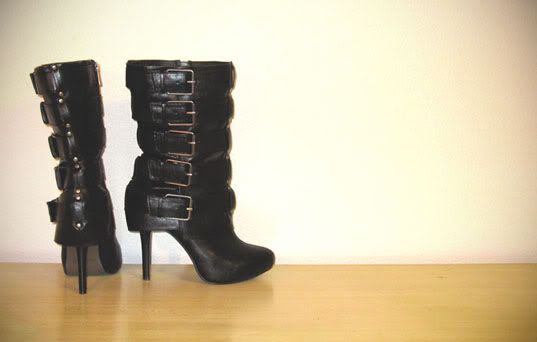 So was it a mistake? I don't really know yet. But what i can say is that after
a late night of line dancing in my new dashes of sexiness...and then wearing
them out again today on a long day of thrift store shopping BOTH OF MY
FEET HURT...and they hurt really bad! I think i'll keep these babies laying
around the house for the next week and then take them out for round two:
Operation Stretch The Hell Out of My Brand New Shoes. After all it always
seems to work out just fine...eventually.
yup i think my feet really are dying for these shoes.
kisses.